Overview

The heel bone is the largest bone in the foot and absorbs the most shock and pressure. A heel spur develops as an abnormal growth of the heel bone. Most commonly, calcium deposits form when the plantar fascia pulls away from the heel area, causing a bony protrusion, or heel spur to develop. While bone spurs can develop in other locations such as the rear of the heel bone, this is the most common location for development. The plantar fascia is a broad band of fibrous tissue located along the bottom surface of the foot that runs from the heel to the forefoot. Heel spurs can cause extreme pain in the rearfoot, especially while standing or walking.

Causes

Common causes of this bone spur in the heel are repetitive trauma to the base of the heel, obesity, poor walking/running technique, poorly fitting shoes, or hereditary conditions.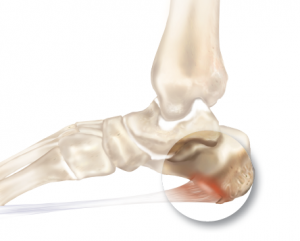 Symptoms

Heel spurs can be quite painful, but can just as likely occur with no symptoms at all. Plantar fasciitis is a contributing condition to heel spurs. The cause of the pain is not the heel spur itself but the soft-tissue injury associated with it. The feeling has been described as a knife or pin sticking into the bottom of your feet when you first stand up after sitting or laying down for a long period of time - a pain that later turns into a dull ache.

Diagnosis

The diagnosis of heel pain and heel spurs is made by a through history of the course of the condition and by physical exam. Weight bearing x-rays are useful in determining if a heel spur is present and to rule out rare causes of heel pain such as a stress fracture of the heel bone, the presence of bone tumors or evidence of soft tissue damage caused by certain connective tissue disorders.

Non Surgical Treatment

In many cases treatment is non-surgical and can relieve pain, but may take from three months to a year to fully recover. Performing stretching exercises to help relax the tissues in the heel as well as rest, icing, and over-the-counter anti-inflammatory or prescription medications can help ease symptoms. Customized orthotics or shoe inserts to position and cushion your heel can help.

Surgical Treatment

Have surgery if no other treatments work. Before performing surgery, doctors usually give home treatments and improved footwear about a year to work. When nothing else eases the pain, here's what you need to know about surgical options. Instep plantar fasciotomy. Doctors remove part of the plantar fascia to ease pressure on the nerves in your foot. Endoscopy. This surgery performs the same function as an instep plantar fasciotomy but uses smaller incisions so that you'll heal faster. However, endoscopy has a higher rate of nerve damage, so consider this before you opt for this option. Be prepared to wear a below-the-knee walking cast to ease the pain of surgery and to speed the healing process. These casts, or "boots," usually work better than crutches to speed up your recovery time.

Prevention

Heel Spur symptoms can be prevented from returning by wearing proper shoes and using customized orthotics and insoles to relieve pressure. It is important to perform your exercises to help keep your foot stretched and relaxed.